The iD22 has Optical Inputs and Outputs which allow you up to 8 extra inputs and 8 outputs at 44.1/48Khz and 4 extra inputs/outputs at 88.2/96Khz. The optical ports can be used with either S/PDIF or ADAT.
First, you need to get your external gear connected up to your iD22. Simply plug your optical cable from your external gear into the correct optical port of iD22. Below is a list of which devices go into which port if you are unsure.
Optical Input:
External Preamps
Outboard gear returns
Optical Output:
Headphone Amps
Monitor Controllers
Hard Disk Recorders
Now on the iD22 mixer application you need to select whether you are using the S/PDIF or ADAT format with your digital setup. S/PDIF will only give you 2 inputs and ADAT will give you up to 8 inputs, the number of optical channels on the mixer will change to show this. The ADAT / S/PDIF selection can be found at the top left of the system panel and looks like this: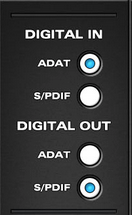 Next you want to set up the clocking of the digital devices. If you are unsure what clocking means then have a read of this and all will become clear : https://audient.zendesk.com/hc/en-us/articles/202587353-Clocking-Explained
You will want to set the iD22 to external clock when using digital inputs and internal when using digital outputs. If you are using both then set it to external so the clock from the input is also clocking the output. Remember that there can only ever be one master clock in a system. The clock source selection can be found underneath the ADAT / S/PDIF selection in the system panel.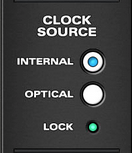 When using external clocks, you want the lock light to be green. If it is amber then you have a clock mismatch. You need to make sure that the sample rate of your external device matches that of your system. 
Your digital outputs can be configured just like your analogue outputs using the routing matrix in the system panel. if you are unsure what each option means then please look at this article which will give you an idea of the flexible routing capabilities of the iD22.
https://audient.zendesk.com/hc/en-us/articles/206344755-FAQ-What-Do-Main-Alt-Cue-A-B-And-DAW-Thru-Do-