Sometimes when installing the Audient drivers on a Windows 7 machine, you might come across an error asking you to make sure that hotfix KB3033929 is installed on your computer: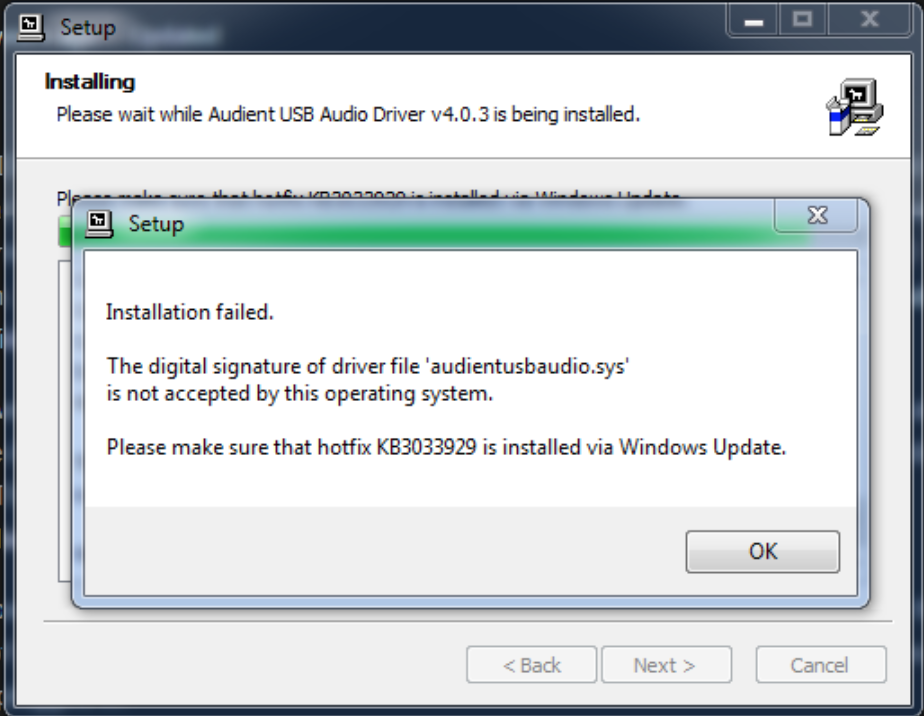 This happens because the Audient drivers require the latest Windows 7 updates, including the convenience rollup update for Windows 7 SP1, which does not get installed through the automatic Windows Update but requires a manual installation.
In order to install the convenience rollup, you first need to make sure you have done all updates available through Windows Update. To do this:
Select the Start button > All programs > Windows Update.
In the left panel, select Check for updates
Install any updates that are found by Windows.
After this has been done, you are ready to install the convenience rollup. The first step is to determine if you are working on a 32-bit or a 64-bit operating system. To do this:
Open the

Start menu.
Right-click on

Computer, and click on

Properties

in the context menu.
See whether the

System type:

field under

System

says

32-bit Operating System

or

64-bit Operating System.
Now all you need to do is head over to this Microsoft Update Catalog URL containing the convenience rollup update, download either the 32-bit or the 64-bit version of the update depending on what your system is using, run the update and follow the on-screen instructions to apply it.
Once the convenience rollup has been installed, you can run the installer for the Audient drivers and it should work without any errors.