To reopen the iD mixer window:
On a Mac, click on the iD app in the dock or in your Applications folder. If this doesn't bring up the mixer window, then go up to the system tray in the top right corner of your screen, click on the iD icon and then click on Show Mixer.


On a PC, double click on the iD icon found in the system tray or Desktop icon if you have created one. The iD icon may be hidden by default so you might have to expand the system tray.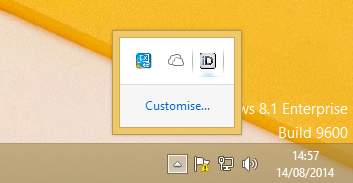 If you are still unable to open the mixer window or are having other strange symptoms like the app crashing or the iD22 is not being recognised by your computer/DAW, then please have a look at the following:
1. Restart Computer and iD22
2. USB Cable
Make sure that you are not using a USB cable longer than 3 meters
Try using a different USB cable
If you were using a USB cable that didn't come with the unit, try using the one that came with it.
3. USB Hub
Make sure that you are plugged directly into your computer's USB ports and NOT a USB hub.
You are able to use a thunderbolt hub without any issues
4. Reset the mixer configuration
Make sure the iD app is completely quitted (DONT just close the window) with the iD disconnected
On a Mac, go to ~/Library/Application Support/Audient/iD
On a PC, go to (C:) > Users > yourusername > AppData > Roaming > Audient > iD > state.xml
Delete the state.xml file
Restart your computer and iD22 and relaunch the iD application
5. Reinstall app
6. Check for Driver Conflicts
Very occasionally older drivers from other audio interfaces can clash with the iD22 drivers causing poor performance. Double check that there aren't any drivers installed on your system that aren't currently in use and uninstall them.
If you are still having issues please get in contact with our Technical Support team by creating a support ticket, or by emailing support@audient.com