If you are getting no signal from your inputs there are couple of things to check to put this right and to allow you to get on with recording.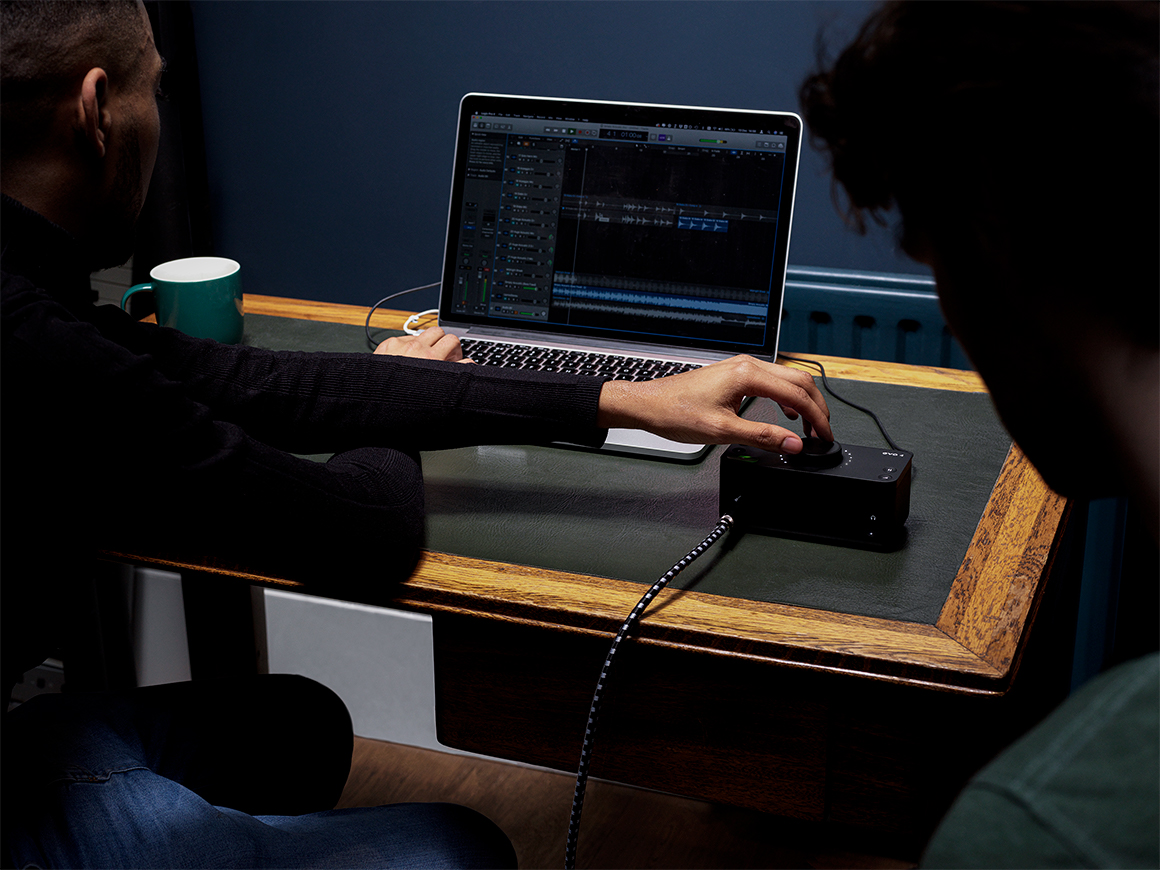 Firstly, you want to check your input meters to see if the signal is making it's way into EVO 4 at all. To do this, tap the channel button for the input you are using. The Meter ring around the Control knob will now show the signal level coming into that input.
If you are seeing no signal appear on these meters then try the following steps:
- Check your connections
Double-check your cable connections are pushed fully into place and are definitely connected to your microphone or instrument. If you've got a bit of Cable spaghetti happening then it can be easy to mix up your cables and plug in the wrong one.
- Check your Input Gain
Not having your Input gains high enough can cause it to seem like you have no input. This can be easily fixed using Smartgain.
Simply tap the green Smartgain button, press the inputs that you are currently using and press the Smartgain button again to begin the process. Now play, and EVO 4 will automatically set your gains for you.
- Check if you need +48v Phantom Power turned on
Some microphones require +48v phantom power to be provided by EVO in order to output audio. This will typically be condenser microphones but double-check your microphones manual to see if phantom power is required or not.
If your Microphone does require phantom power, this can be turned on by tapping the channel button for the input you are using and pressing the +48v button. The light will illuminate to indicate that Phantom Power is enabled on this channel.
- Check Your Cables
Cables in a studio have a hard life and can occasionally break. A broken cable can either cause a complete loss of signal or a drop in signal level so if you experience either of these, maybe try a different cable.
Otherwise, if you are seeing a signal on the EVO's Meters but can't hear it or see it in your recording/streaming software then here are a few more steps to follow.
- Try Adjusting Your Monitor Mix
If you are simply trying to listen back to yourself then you may need to adjust the Monitor Mix control.
Tap the Monitor Mix button and then turn the Control Knob Anti-clockwise, the LED on the meter should move toward the input side of EVO 4. The signal from the Mic's should now be heard in your monitors or headphones.
- Check the Connections to your Monitors and Headphones
Double-check that your monitors or headphones are securely plugged in. If you're using active monitors, ensure they are switched on. Remember that the Monitors will mute automatically is anything is connected to the headphone jack.
- Check Your Computers Sound settings
If you are trying to record or stream and are not seeing any signal in your computer then check that EVO 4 is set to be your input device. On macOS, this is done by going to System preferences > Sound > Input and then simply clicking EVO 4.
On Windows, this is done by going to Control Panel > Hardware and Sound > Sound > Recording Devices and then selecting one of the EVO input channels as our default device.
- Check the setting in your Recording or Streaming software
Some software will have separate settings to set your input and output devices where you'll need to select EVO 4. This is typically in the Preferences. If you're unsure how to do this then I'd recommend contacting the developer of the software you use and they'll be able to assist.
If you are still having issues after following this guide, then please get in touch with our support team by Submitting a Request.