Thank you For Registering with Audient ARC and redeeming the Two Notes Wall of Sound Speaker-cab emulation plug-in. Wall of sound gives you a wide array of great guitar tones giving a realistic Cab sound, even in your bedroom! The instructions below show how to install Two Notes Wall of Sound onto your computer
Firstly you need to download the Wall of Sound plug-in, which can be downloaded here: https://www.two-notes.com/en/torpedo-series/torpedo-wall-of-sound/
Then select the correct download link for your system at the bottom of the page. You will need to download the plug-in type that you require based on the DAW you are using.
As a rough rule, Logic Pro X uses .AU type plug-ins, Pro Tools will use .AAX and Cubase and other DAWs will use .VST plug-ins. If you are unsure what plug-in to install, check your DAW's manual or documentation for further details.
On Mac, simply run the .DMG file and then run the .pkg file to open the installer.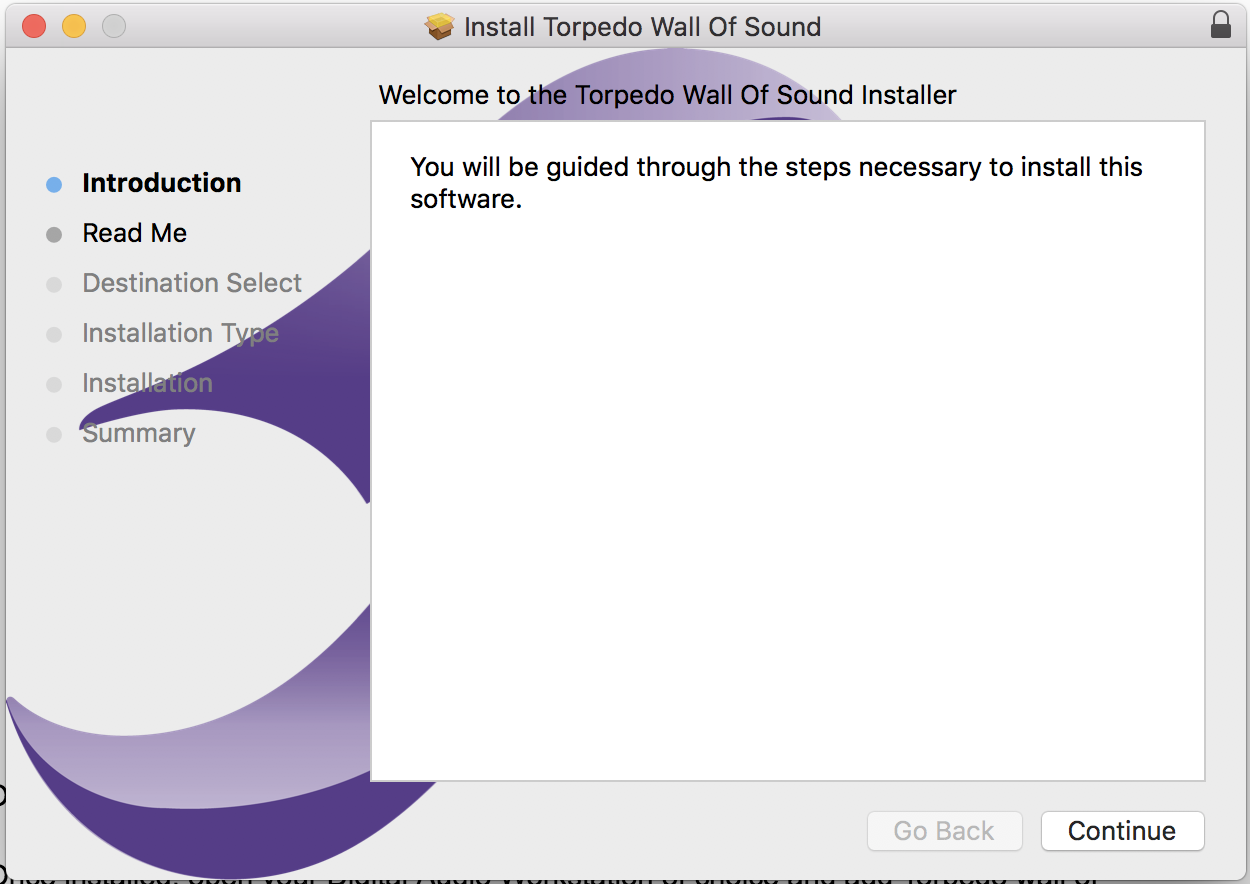 Follow the instructions of the installer to install the plug-in. If you use multiple DAW's you can also install multiple versions for different plug-in types (AU,VST, AAX...etc)
For Windows, simply open the downloaded .exe file to run the installer.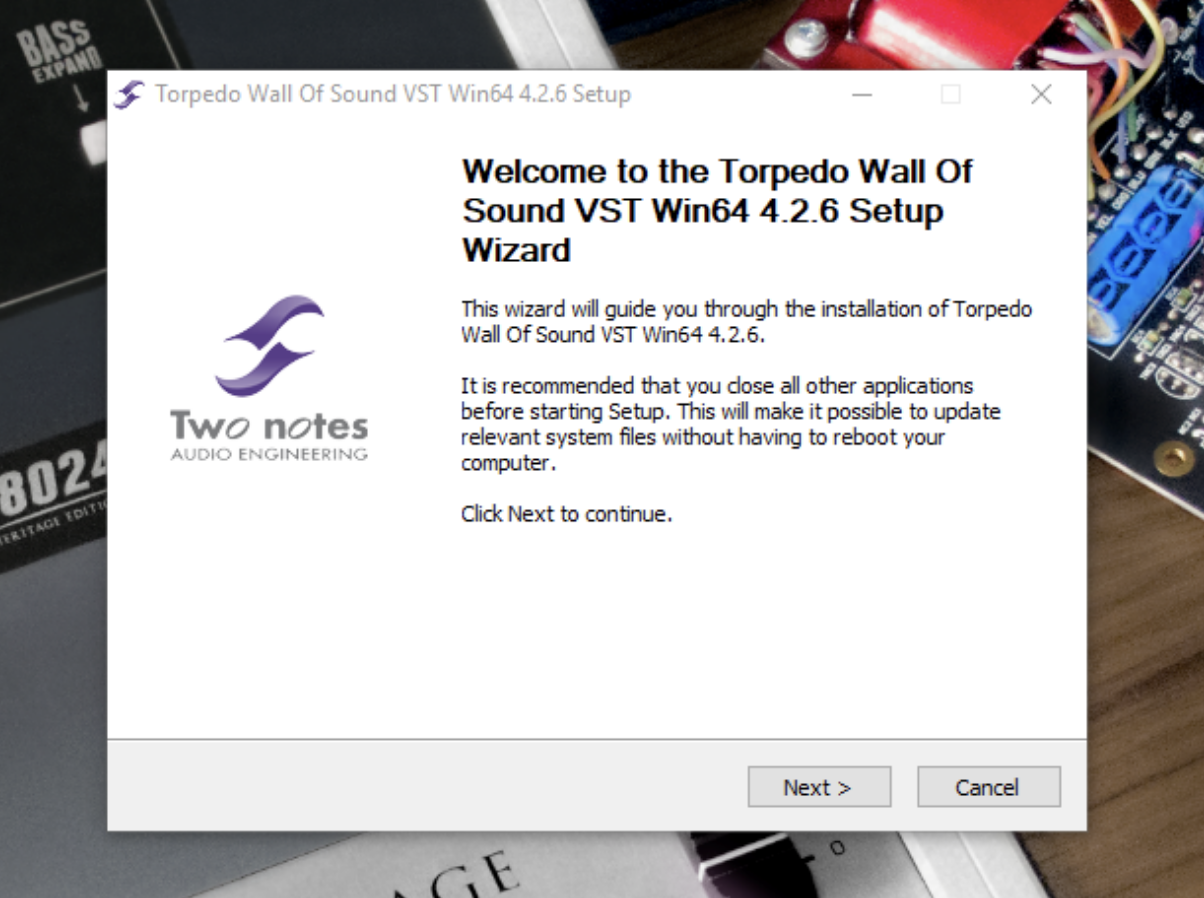 Follow the installer process through, ensuring you have fully read the license agreement, also ensure that any DAW software is not open.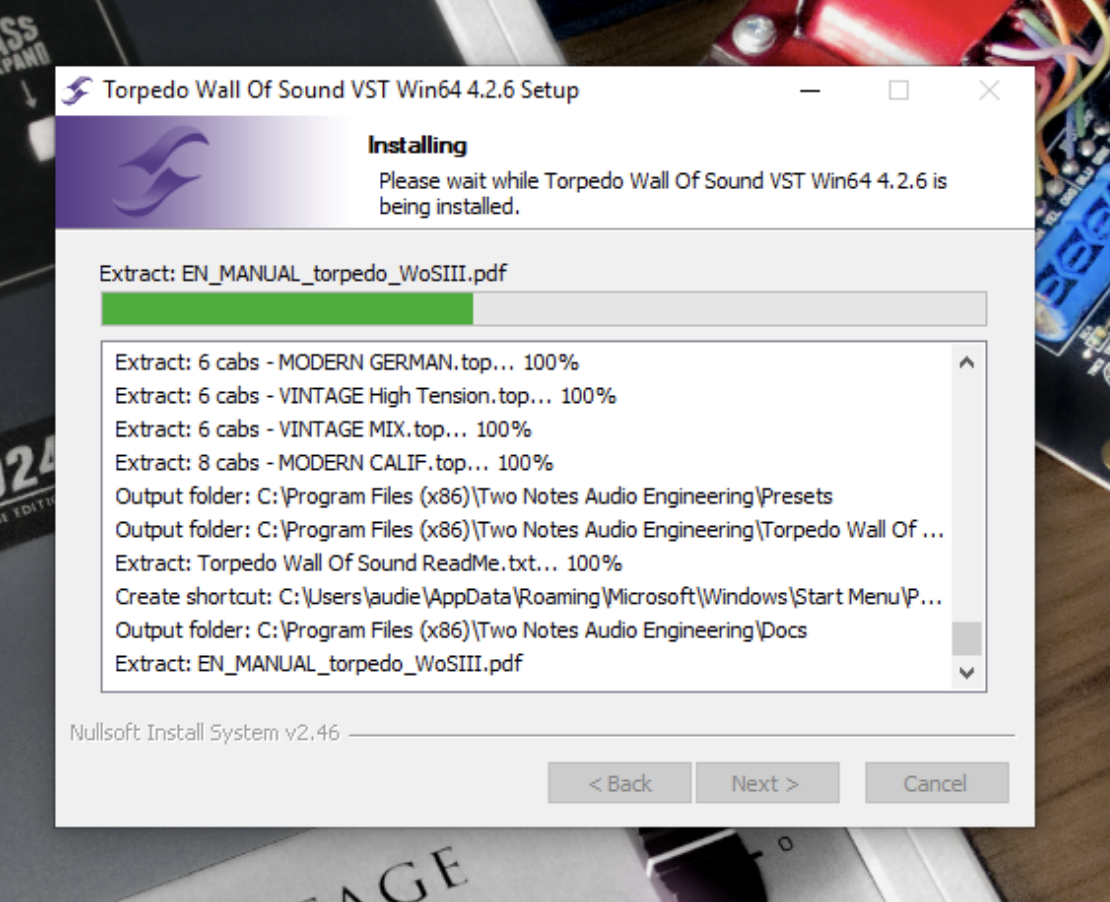 Again, you may need to install multiple versions of the plug-in depending on what DAW's you use.
Once installed, open your Digital Audio Workstation of choice and add Torpedo wall of Sound to a channel strip from the list of effects.
Upon opening the plugin, you should be welcomed with the log-in screen, if you don't have a Two Notes account, enter an email address, password and press Sign up.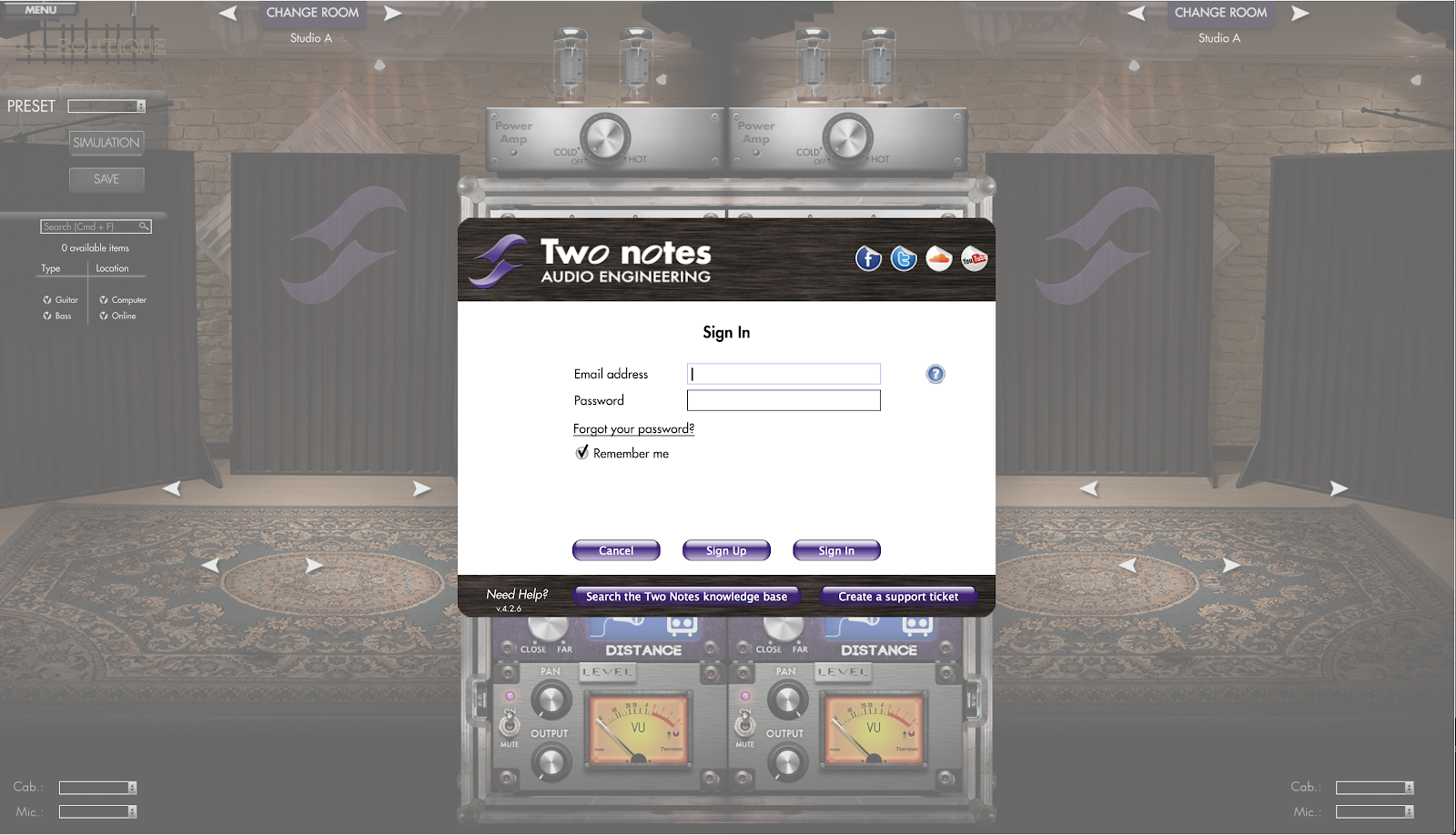 Here you will need to enter some personal details to create the account. Once completed,you will need to verify your account by clicking on the link in an email that will have been sent to you. Once you have clicked the link in the email, you can go back into the plug-in window and press Next.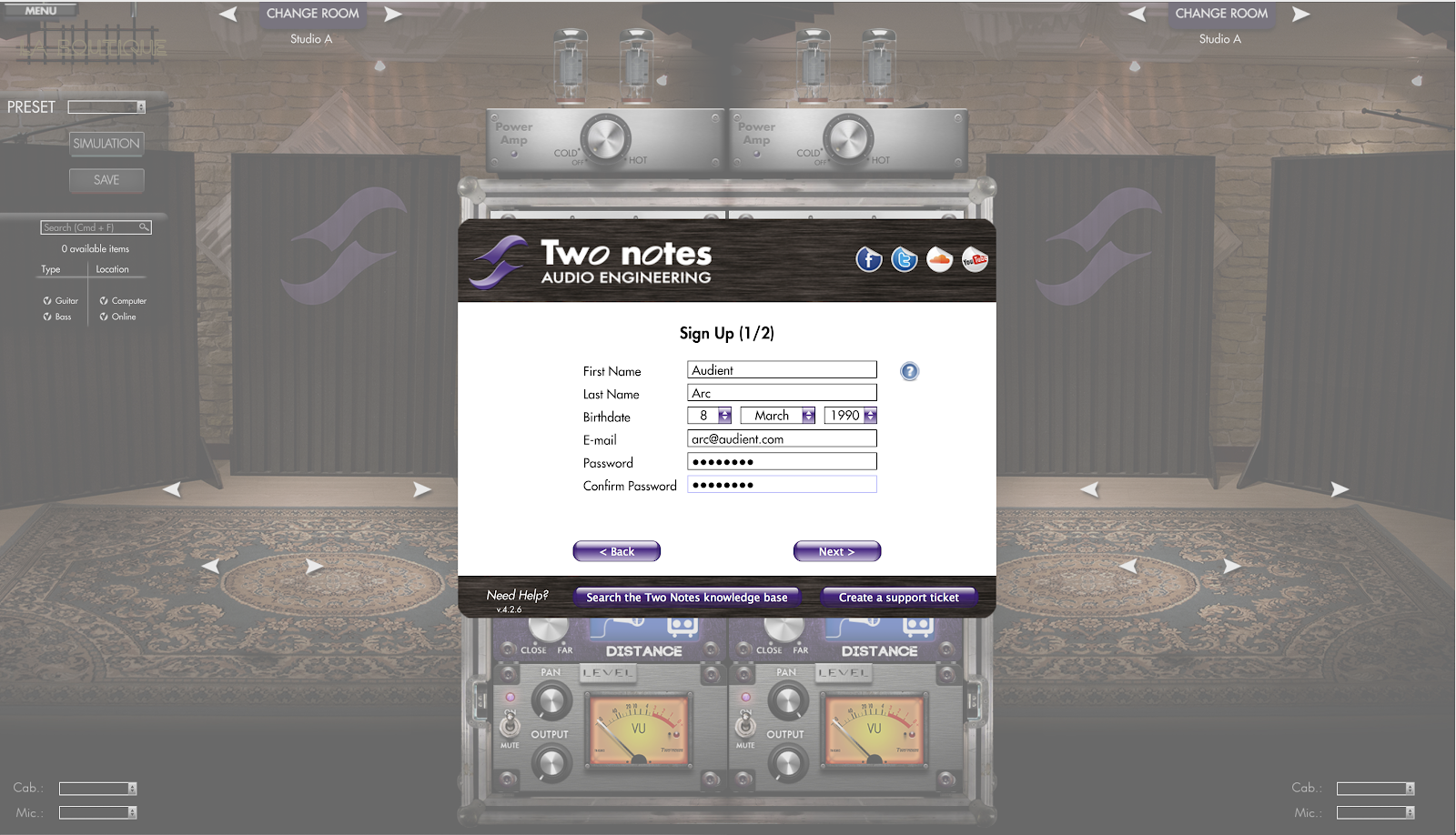 If you already have a Two Notes account, simply sign in with your email address and password.
One the next page it will ask you if you have an activation code, select Yes and enter the code that was sent to you when you signed up to ARC or on the screen on the ARC webpage. Now the latest License File and Two Notes Audient Bundle cabinets will be downloaded and ready for you to use.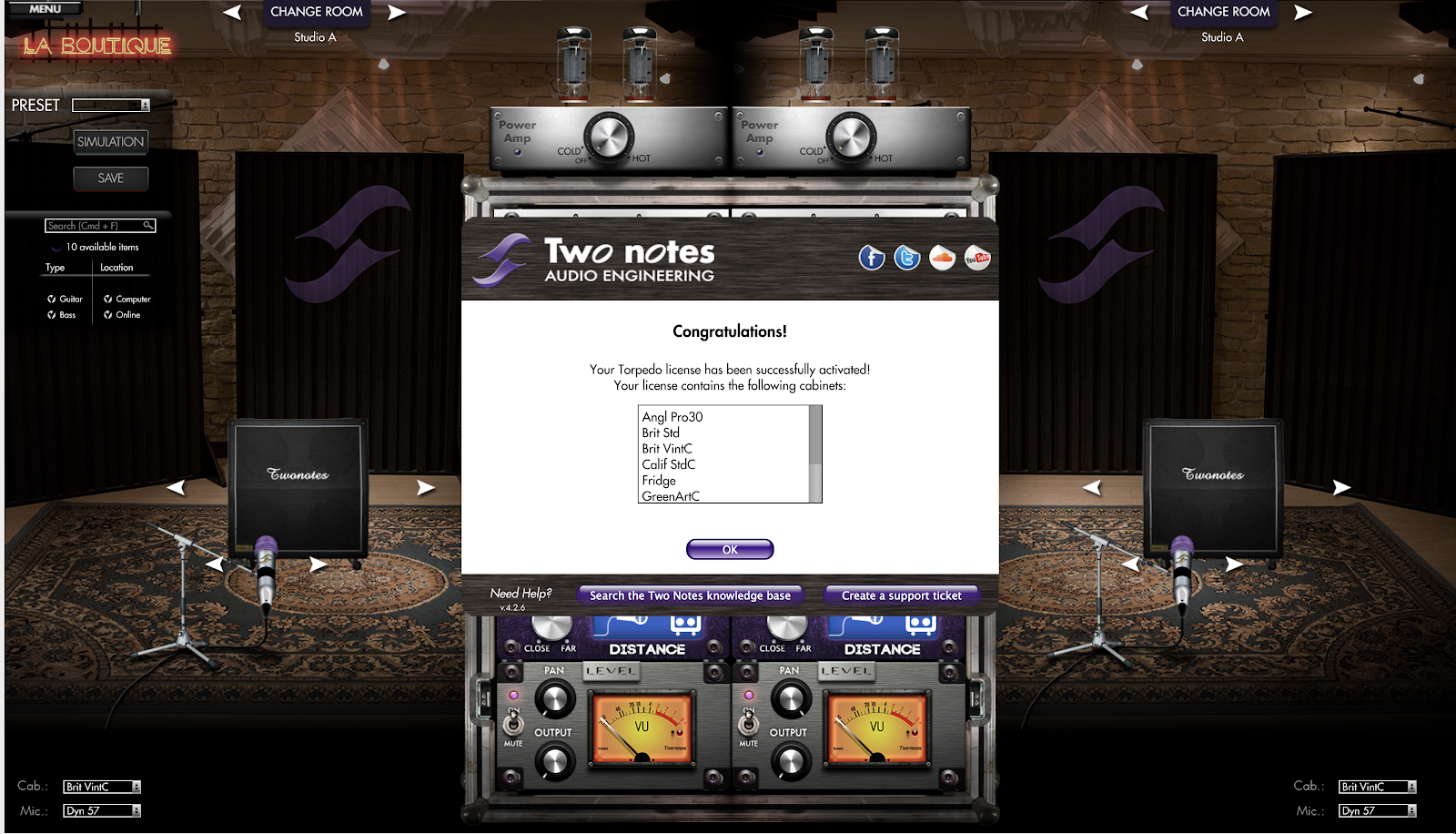 For more information about using the Wall of Sound plug-in and cabinets, please take a look at the user manual available on the Two Notes website.
We hope you enjoy them!