The EVO 16's talkback feature allows you to talk to your artists using either a mic connected to your EVO system, or a USB mic connected to your computer.
The talkback signal is sent to the 4 Cue mixes, leaving your main mix unaffected. This is perfect for avoiding feedback loops in your control room while still allowing you to communicate with your artists.
To choose a microphone input for the talkback function, first, open the system panel from the EVO app; either press the "settings button" in the bottom right of the mixer, or go to "View" > "Show System Panel". Then choose the "talkback" tab.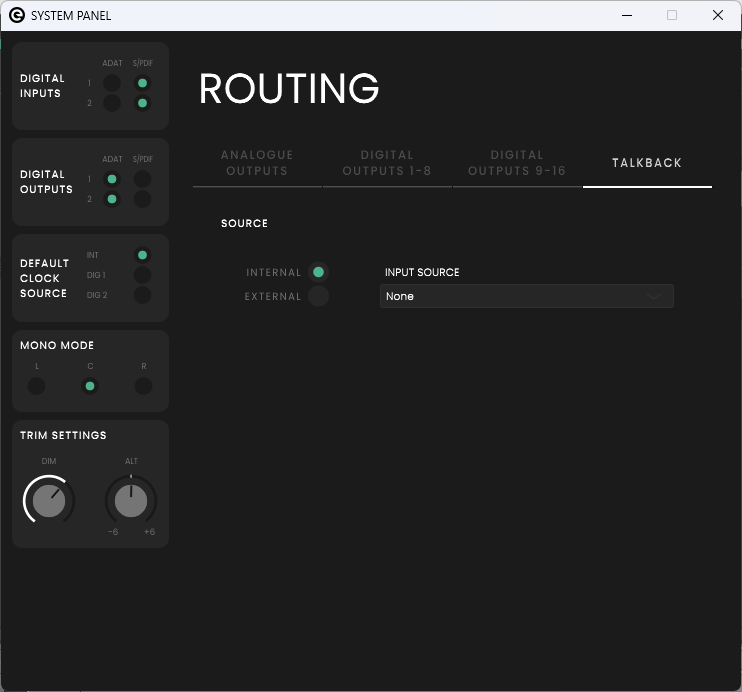 If set to internal, one of the input channels into the EVO will be used for talkback and this can be any of the analogue or digital inputs (via ADAT or SPDIF). You can select the channel you wish to use via the drop-down menu seen below;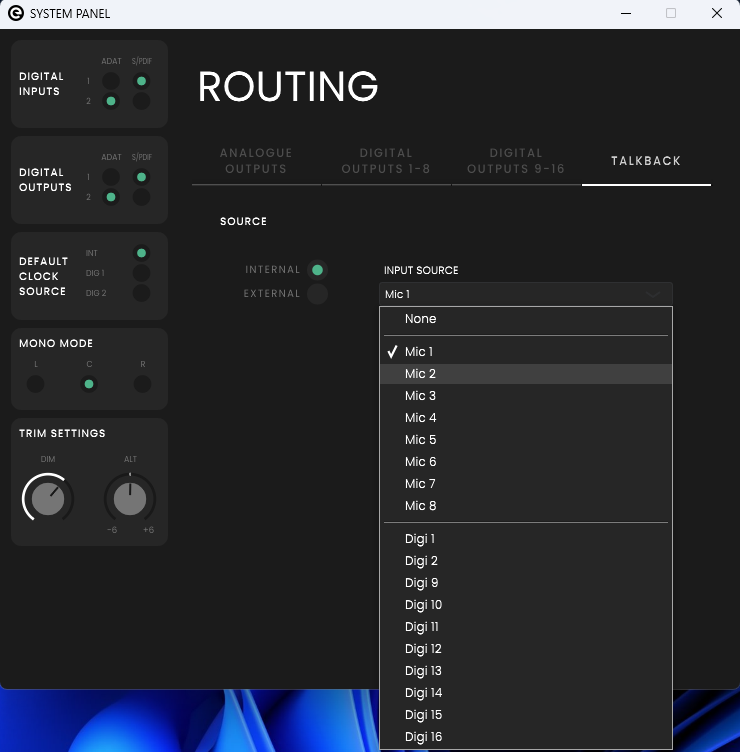 Whichever channel you assign will then visually change in the mixer to show it's now assigned to talkback. To adjust the volume of talkback in the relevant cue mix, first, open the cue mix, locate the input channel and raise the fader.

If set to external, the EVO 16 can connect to another audio device on your system, such as a USB microphone, which can be assigned to talkback instead, meaning you can still use all the inputs to your EVO 16. This will always come through on the PC/Mac Output 10 channel in the mixer and can be found as the furthest right channel strip.
Talkback can be turned on and off either via the function button on the front of your EVO 16, or via the EVO mixer.
To assign via the EVO mixer, find the "TB" button and right-click this, then assign to F1.
Otherwise, enable this directly via the EVO 16 front panel, hold down the main encoder to get to the "Settings" screen, then scroll down to "Function button" and click the main encoder. Finally, find "Talkback" within the function button options and press the main encoder a final time.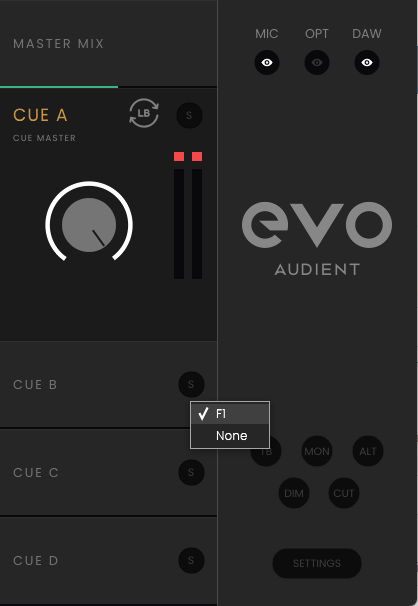 Either pressing the talkback button here on the channel, or using the function button on the front of your EVO 16 will activate talkback so you can speak to your artists, press it again to de-activate it.