Have you recorded your guitar track but realised the tone isn't right for you?
Re-amping will allow you ultimate flexibility by using a pre-recorded take and sending it back out to an amp for re-recording.
Re-amping is generally used on guitar or bass, so this setup will refer to this from a guitar players perspective, however you can send any audio you like using this setup to create your own unique sounds.
Hardware setup Overview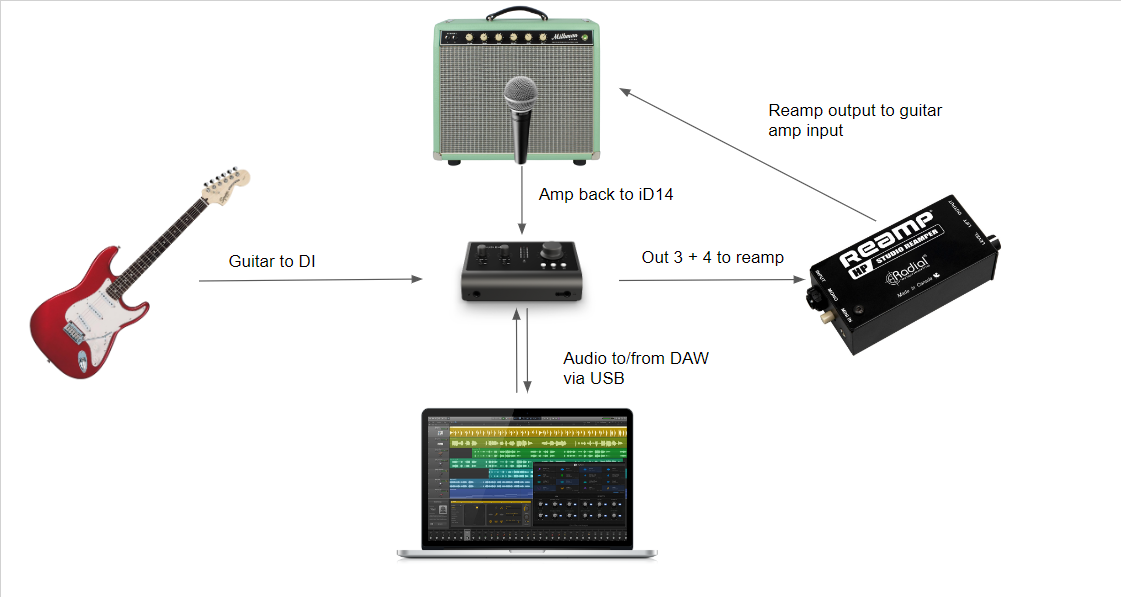 Firstly you will need to setup the DI for recording, to do this plug your guitar into the DI input on the front of the iD14 - this will disconnect the XLR preamp on the back and the gain control will be used for the DI.
Now you need to connect the re-amp box to either output 3 or 4 (it will only be a mono send so it can be either in this scenario). You will likely need to use a TRS to XLR plug for this, but it is important to use a re-amp box as this will ensure the level is as close as possible to the level it would normally reach the amp at if you connected your guitar directly.
Next you will need to play some guitar to set your level, play slightly harder than you will for your recording and you will never clip the input. Use the iD mixer when doing this for more accurate metering.
Next you need to get the amp connected back to the interface, if you are using a mic get this connected to an unused preamp, such as input 2 - this will be the re-amped signal you are recording back into the computer. If you are using a digital modeller simply connect an XLR/TRS cable to an unused input.
Now you need to setup your iD14 for outputting audio from your recording software to the hardware outputs on the back of the interface.
What does a re-amp box do?
When you record your guitar via the DI the signal is being changed to make it more suitable for use with a microphone preamp.
A DI box takes your signal from unbalanced and high impedance signal to a balanced, low impedance signal.
A re-amp box does this but in reverse, so it is vital to use one when re-amping to ensure that the amplifier you are connecting it too receives an unbalanced high impedance signal, this will ensure the gain stages react in the way you would expect.
iD Mixer setup
Firstly open up the iD mixer and navigate to the control panel;
View > Show System Panel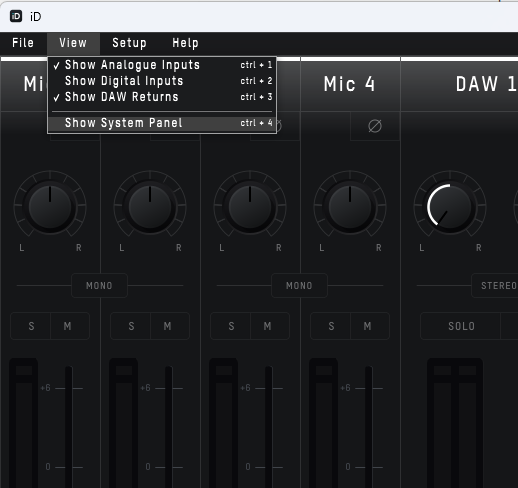 Once here you need to assign outputs 3+4 to DAW thru, this means anything set to output via 3+4 in your DAW will be sent straight through to the outputs.

Now the hardware is setup you will need to now go to your DAW of choice and get this setup.
DAW setup
First, record a guitar track via the input 1 DI, it won't sound great yet as it needs to go through an amplifier.
Next you need to set a hardware output for this track to outputs 3+4. This is done in various different ways so check this for your relevant DAW.
Once you have set this output on playback the audio will be output directly to outputs 3+4 on the back of the iD14, bypassing the mixer and volume controls, so be aware if you have your amp connected already it may be loud!
Finally you will need to make a new recording channel to record the output of your amp, so if you used input 2, create a new channel assigned to input 2 for the return.
Now you have this all setup you are ready to get started with re-amping! Whatever you send out from your DAW on outputs 3 and 4 will be passed directly into the amp for re-recording, you can run through pedals as needed as well!
Extra Information
With this setup you are also able to record a DI and an amp signal at the same time, so you can still use this for live recording it all together, with the re-amp option still available if you need to change the tone further down the line by just sending out the pre-recorded DI signal.
If you would like more idea on when and why to use re-amping our video here on the SONO has some more information you might like.